Marketing campaigns adjust to new global realities
The COVID-19 Evolve & Shift
As you may know, Canada Beef had undertaken 2 parallel, year-long, national consumer campaigns as of March 1, 2020.
These campaigns were in planning before the emergence and impact of COVID-19 on the marketplace. Consequently, Canada Beef has taken steps to adapt Consumer and Channel Marketing programming to better address the current COVID-19 marketplace.




Canada Beef has adapted content and the media buy to have a strong focus on cooking with beef at home as the public is practicing social distancing.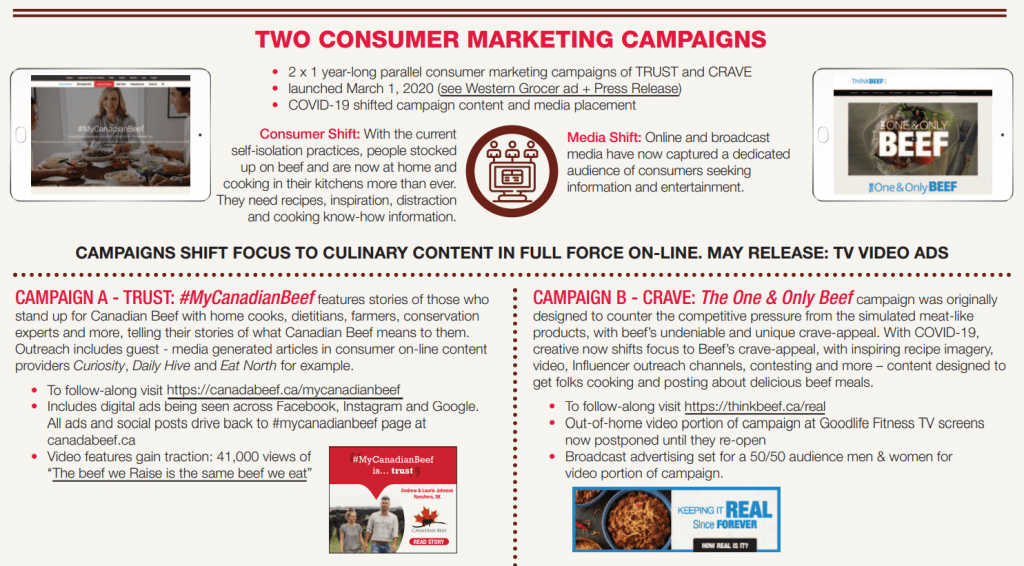 Consumer Shift:
With the current self-isolation practices, people stocked up on beef and are now at home and cooking in their kitchens more than ever. They need recipes, inspiration, distraction and cooking know-how information.
Media Shift:
Online and broadcast media have now captured a dedicated audience of consumers seeking information and entertainment.
Trust Campaign: #MyCanadianBeefStory enlists beef farmers, cooks and dietitians to share their stories, focusing on nutrition, practical family meals, the pride of raising beef and the importance of beef farming and ranching to Canadians.
Crave Campaign: Dubbed 'Project Crave', The One & Only Beef campaign operates under the ThinkBeef.ca marketing platform with a sense and sensibility approach. It does not engage in data and stats or far-reaching claims, but rather focuses on the culinary crave qualities that beef effortlessly delivers.
To keep abreast of all of Canada Beef marketing initiatives:
Facebook: Canadian Beef @LoveCDNBeef
Twitter: @CanadianBeef
Instagram: @LoveCDNBeef
Older
Newer