Annual General Meeting
The Canadian Beef Check-Off Agency Annual General Meeting is held each summer, where the Agency reports on the administration and investment of check-off dollars for the year, and where appointed delegates conduct the business of the Agency including election of the Agency Board, resolution debate and more. The AGM is open to all stakeholders free of charge. 
2019 AGM – Calgary, AB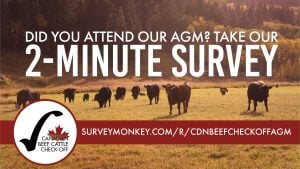 Thank you for attending the 2019 AGM in Calgary on August 13 in conjunction with the Canadian Beef Industry Conference. We had over 100 delegates and observers in attendance, and presentations provided by our General Manager, and our three service providers.
2020 AGM – Penticton, BC
Join us in sunny Penticton, BC on August 11, 2020 for our AGM in conjuction with the Canadian Beef Industry Conference!